Error: A Video Cannot Be Inserted from This Embed Code
Article Last Updated
If you see this error message when adding a website video to your course, review the reasons and solutions that follow.
"A video cannot be inserted from this embed code. Verify that the embed code is correct and then try again."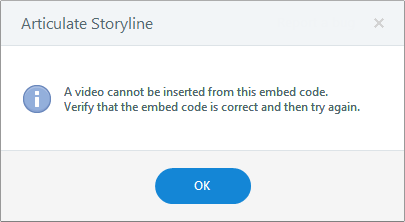 You're Trying to Add a YouTube Video
If you attempt to add a YouTube video using the Video from Website feature, you'll see this error.
As of May 2015, Google no longer allows YouTube videos to be embedded in this manner. However, YouTube videos in existing courses will continue to work.
You can still add YouTube videos to new projects using web objects, and they'll work in Flash, HTML5, and Articulate Mobile Player output.
Your Embed Code Doesn't Have Width and Height Values
If your embed code doesn't have explicit width and height values, you may see an error.
We added a programmatic workaround for embed codes without explicit dimensions in Update 5 for Articulate Storyline 2. To take advantage of the new features and fixes, install the latest version from the link in your product confirmation email or download it here.
Your Embed Code Is Malformed
If your embed code is missing critical information or is otherwise malformed, you may see an error.
Try copying and pasting the embed code from the video hosting website into Storyline again. If it still doesn't work, please let us know.