Quizmaker '13: Adjusting Lengthy Feedback Text
Article Last Updated
You may find that lengthy feedback text is small or difficult to read in Articulate Quizmaker '13. In Articulate Quizmaker '09, feedback layers weren't customizable, so we automatically added lengthy feedback text to scrolling panels. In Quizmaker '13, however, you have complete control over the look of feedback layers, so we don't add scrolling panels by default. The good news is you can add anything to feedback layers, including captions, characters, videos, web objects, scrolling panels, and more.
Here's one way to adjust the appearance of lengthy feedback in Quizmaker '13:
Switch to Slide View, and select the feedback layer you want to edit in the lower right corner.
Enlarge the feedback text box to increase the font size.
Then add a scrolling panel, and place the enlarged text box inside it.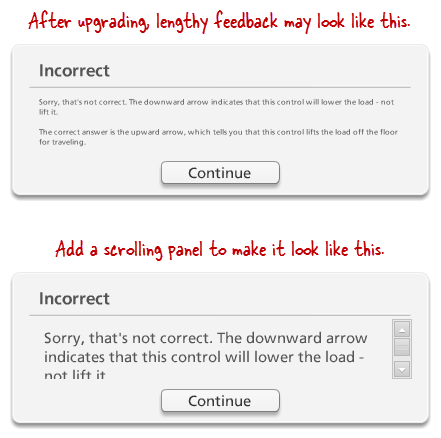 Tip: The scrolling panel must be added to the feedback layers on the actual question slide. It won't work the same way if you add a scrolling panel to the feedback master.