Audio in Feedback Prompt Isn't Playing in Mobile Safari
Article Last Updated
You may find that feedback audio on question slides doesn't play as expected in mobile Safari on an iPad that's running iOS 5.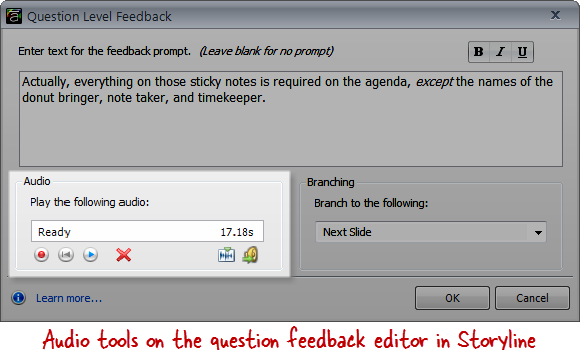 This results from a limitation in mobile Safari on iOS 5 devices that prevents audio from playing unless it's specifically triggered by the user. (Click here to determine which version of iOS you have.)
Use either of the following methods to avoid this issue:
Update Storyline and iOS
With the release of Update 2 for Storyline and iOS 6 for Apple mobile devices, mobile Safari can play audio in feedback prompts. To take advantage of this capability, do the following:
First, download and install the latest version of Storyline from the link in your product confirmation email, or get it here.
Republish your Storyline project.
Then update your iPad to iOS 6 or later.
Note: The first generation iPad isn't compatible with iOS 6 or later. To play audio in feedback prompts in mobile Safari on iPad 1, use the following option instead.
Add a button to the feedback layer
For iPads running iOS 5, add a button to the feedback layer. Then add a "Play media" trigger to the button that plays the audio when users click it.
See also: