Storyline 1 and 2: Can't Navigate Past a Web Object in the Articulate Mobile Player
Article Last Updated
If you plan to let learners view your Articulate Storyline content in the Articulate Mobile Player app, we recommend not using web objects that fill the entire slide. Learners could become stuck on a slide that contains a full-screen web object.
Description of the Issue
When viewing content in the Articulate Mobile Player, you can use the reverse-pinch gesture to enter full-screen mode.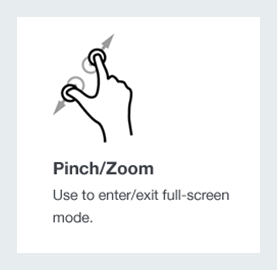 When in full-screen mode, a web object that fills the slide will also fill the entire screen. As a result, the pinch gesture to exit full-screen mode and the two-finger swipe to move back and forth between slides won't work as expected. Gestures will interact with the content in the web object rather than the overall course.
Solution
To avoid this issue, do either of the following:
Resize the web object so it doesn't fill the entire slide.
Use a lightbox to display the web object slide.