ContainerCanNotOpen error
Article Last Updated
In some environments, you may randomly encounter a Storyline error message stating:
The project file could not be saved.

ContainerCanNotOpen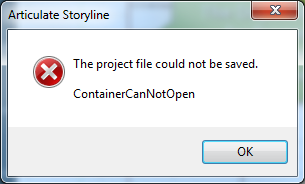 This issue was corrected in Update 2 for Storyline. To take advantage of the new features and fixes, download and install the latest version of Storyline from the link in your product confirmation email, or get it here.