Continue Button on Feedback Prompts Is Incorrect When Using Vietnamese Text Labels
Article Last Updated
When you use Vietnamese text labels, you may find that the Continue button on feedback prompts is incorrect.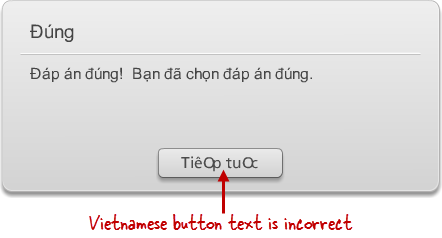 This is a known issue. Here's how to correct it:
Go to the View tab on the ribbon and click Feedback Master.
Select the Continue button placeholder on the feedback master, and choose a font that supports Vietnamese characters, such as Arial Unicode MS or Microsoft Sans Serif.
Go to the Slide Master tab on the ribbon and click Close Master View.
Republish your course.