Create a new color scheme in Quizmaker '09
Article Last Updated
You can create new color schemes in Quizmaker '09.  Here's how:
Open your quiz in Quizmaker '09.
Double-click any existing question to open it in edit mode, or create a new question.
Click the Slide View button on the toolbar.
Select the Design Tab.
Click the Colors drop-down list, and select Create New Theme Colors.
Click the drop-down arrow beside each component of the color scheme to select the desired color.
Assign a Name to your custom color scheme at the bottom of the window.
Click the Save button.
Below is a list of quiz elements that are affected by each of the color theme elements:
Text/Background - Dark 1:  Background Style 4
Text/Background - Light 1:  Background Style 1
Text/Background - Dark 2:  Background Style 3
Text/Background - Light 2:  Background Style 2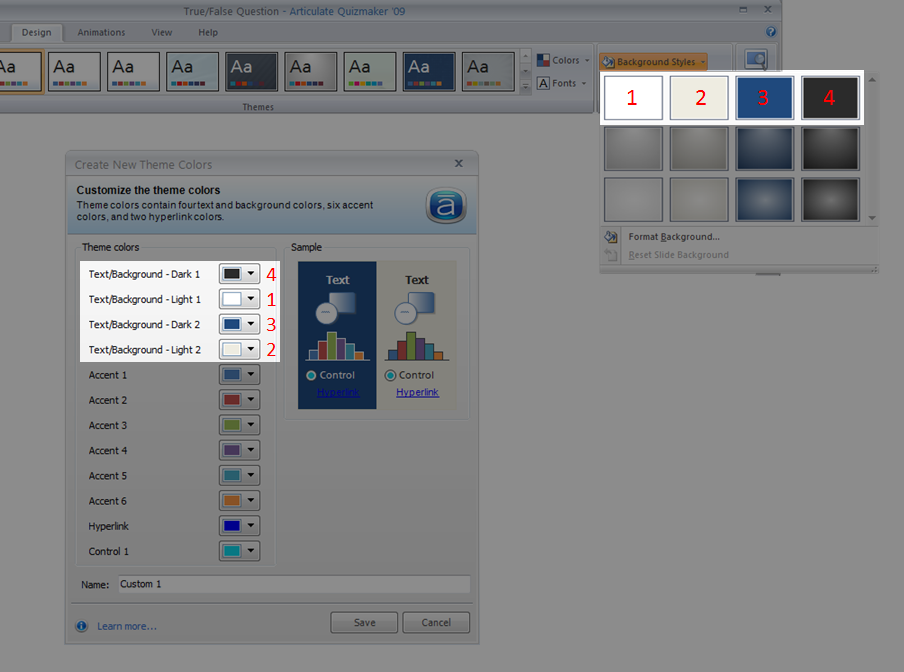 Accent 1:  Hover color for answer choices, Shape Style 2, and Shape Fill 5
Accent 2:  Shape Style 3 and Shape Fill 6
Accent 3:  Shape Style 4 and Shape Fill 7
Accent 4:  Shape Style 5 and Shape Fill 8
Accent 5:  Shape Style 6 and Shape Fill 9
Accent 6:  Shape Style 7 and Shape Fill 10
Control 1:  Fill color for radio buttons