Storyline and Studio: Custom True/False Answers Always Report to Your LMS as False
Article Last Updated
You can customize the true/false responses in Storyline and Quizmaker quizzes. For example, you might use yes/no or right/wrong instead.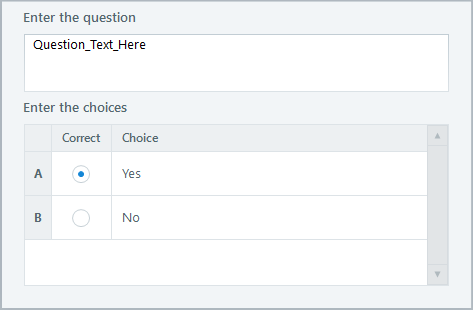 Customized true/false questions will be scored properly, but you may find that your LMS logs show "false" for customized responses. For example, if you use yes/no responses and the correct response is "yes," you might see something like this in your log files:

cmi.interactions.0.type: TrueFalse

cmi.interactions.0.objectives.0.id: Question_Text_Here

cmi.interactions.0.timestamp: 2016-01-28T06:33:57

cmi.interactions.0.correct_responses.0.pattern: 

false



cmi.interactions.0.weighting: 1

cmi.interactions.0.learner_response: 

false



cmi.interactions.0.result: 

correct
Notice that the result is still correct even though the custom "yes" response is displayed in the log file as "false."
Since the LMS expects to receive only "true" and "false" options, it will consider anything else to be "false."
If you just need to track learners' results, you can safely ignore the "false" responses in your log files. On the other hand, if you need to see your custom responses in your log files, we recommend using a multiple-choice question with two answer choices (e.g., yes/no) rather than a true/false question.