Error: A Video Cannot Be Inserted from This Embed Code
Article Last Updated
If you see this error message when adding a website video to your interaction, review the reasons and solutions that follow.
"A video cannot be inserted from this embed code. Verify that the embed code is correct and then try again."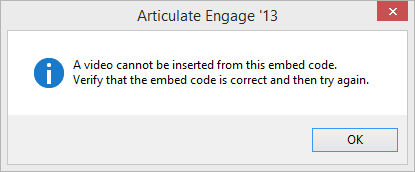 You're Trying to Add a YouTube Video
If you attempt to add a YouTube video using the Video from Website feature, you'll see this error.
As of May 2015, Google no longer allows YouTube videos to be embedded in this manner. However, YouTube videos in existing interactions will continue to work.
For new interactions, we recommend using a different video hosting service or importing the source video files directly into your interaction.
Your Embed Code Doesn't Have Width and Height Values
If your embed code doesn't have explicit width and height values, you may see an error.
Most video hosting sites include width and height values in their embed codes, but some don't. Here are two video hosting sites that are known to have problematic embed codes and tips for fixing them.
Host
Solution
Brightcove.com

Brightcove offers several embed options. Be sure to choose the Player URL (iframe) embed code for your Articulate Engage interaction.

Kontiki.com

Kontiki appears to use CSS styling in their embed codes rather than explicit values. To correct it, replace the style element in your embed code with defined values.

For example, your embed code might include a style element like this:

style="border:none;width:100%;height:100%"

Replace it with defined attributes like this:

frameborder="no" width="100%" height="100%"

Even better, use specific pixel values for width and height to maintain the video's aspect ratio:

frameborder="no" width="500" height="281"
Your Embed Code Is Malformed
If your embed code is missing critical information or is otherwise malformed, you may see an error.
Try copying and pasting the embed code from the video hosting website into Engage again. If it still doesn't work, please let us know.