Error Code 120 When Publishing an Articulate Presenter '09 Course
Article Last Updated
If you're using Microsoft Windows 7 with all the latest updates installed, you may see the following error when you publish an Articulate Presenter '09 course:
There was an error copying player files. Error Code: 120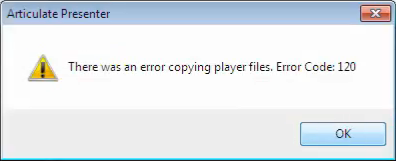 This issue was fixed in Update 11 for Articulate Presenter '09. Install the latest version to take advantage of the new features and fixes, then republish your course.