Quizmaker '13: How to Clear Your Custom Colors
Article Last Updated
When your custom colors swatches are full, you can overwrite them or clear them entirely.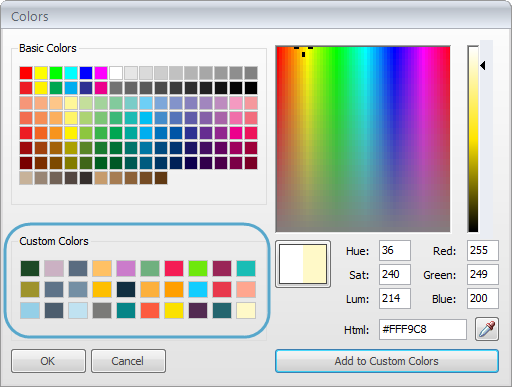 Overwriting Your Custom Color Swatches
To overwrite an existing color swatch:
Select one of your custom color swatches.
Create a new custom color using the options on the right side of the Colors window.
Click Add to Custom Colors.
Click OK.
Clearing Your Custom Colors
To clear all your custom colors:
Close Articulate Quizmaker.
Go to this folder on your computer: %AppData%\Articulate\Shared\3.0
Delete the customcolors.xml file.
The next time your open Quizmaker, your custom colors will be cleared.