Menu Property Is Hidden on Quiz Placeholder Slide
Article Last Updated
In some situations, you may find the Show in menu as property is hidden or covered by the Edit in Quizmaker and Edit Properties buttons on the quiz placeholder slide in Articulate Presenter '13.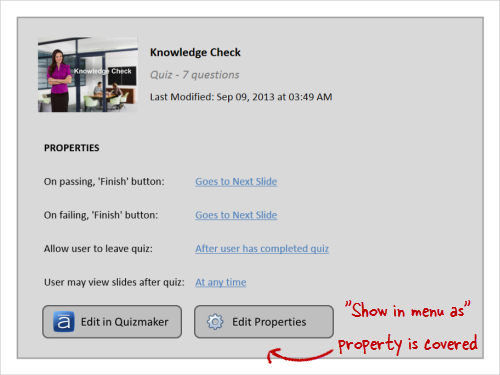 This issue was corrected in Update 2 for Articulate Studio '13. To take advantage of the new features and fixes, download and install the latest version from the link in your product confirmation email, or get it here.
Tip: Installing Update 2 will prevent this issue from happening again. However, to fix a placeholder slide where it has already occurred, click Edit in Quizmaker. When the quiz opens in Articulate Quizmaker, click Save and Return to Presenter. This will update the placeholder slide and correct the issue.