Articulate Online: Resolve "Page Not Available" Errors for Custom Answer Reports
Article Last Updated
You may see a Page Not Available error when generating a custom Answer Report in Articulate Online. This error can occur in the following scenarios.
The Content Item Has Multiple Versions
When a content item has multiple versions (updates), a custom answer report could fail if the amount of data being compiled exceeds SQL limitations.
Run the report again and Include Last 10 Versions. (If your content item doesn't have 10 versions, the number will be lower.) You can also run the report on a specific version of the content item.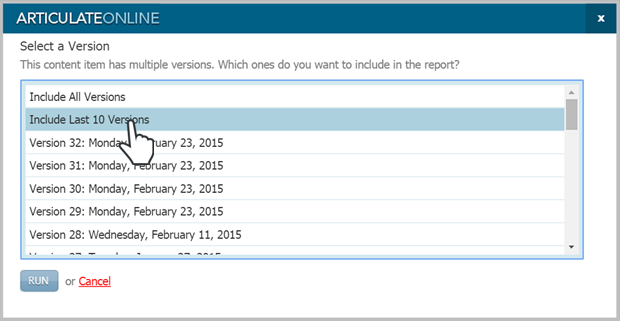 The Tracking Option Has Changed
This issue could occur if the tracking option changed for a presentation in the report parameters.
For example, if a presentation was initially published with Track using number of slides viewed and it was later republished with Track using quiz results, you could see a reporting error.
This issue was fixed in an update to Articulate Online on December 16, 2010.