Storyline 2: Publishing Process Hangs
Article Last Updated
In some cases, you may find that the publishing process hangs in Articulate Storyline, or there may appear to be no progress at all. This is an erratic issue, and we're working with affected users to fix it.
In the meantime, we've improved the publishing process in the latest Storyline 2 update. If the publishing process hangs for you, install the latest update and try again. If it persists, send us your Storyline log files for review. See below for details.
Install the Latest Update
To take advantage of the new Storyline features and fixes, install the latest update and reboot your computer.
The publishing process should no longer hang. However, in rare situations, you may find that the progress indicator doesn't advance.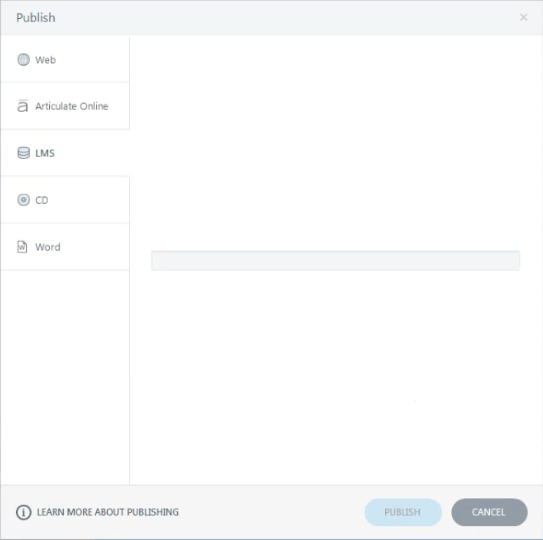 If the progress indicator fails, do this:
Allow the publishing process to continue running in the background until it finishes. You can monitor its progress by watching the storyline.exe process in your Windows Task Manager.
When the storyline.exe process becomes inactive, close the Task Manager, then click Cancel to close the Publish window.
Save your project file and close Storyline.
Reopen Storyline and publish your project again.
Close and Reopen Storyline Before Publishing
In most reported cases, the publishing process only hangs once. However, if the publishing process hangs repeatedly for you, we recommend closing and reopening Storyline each time before you publish. This will ensure that you're able to publish successfully without incident.
Also, to help us investigate this issue further, please send us your Storyline log files as described below.
Send Us Your Storyline Log Files
Please send us your Storyline log files to help us research this issue. Here's how:
Download and extract this zip file on your computer.
Right-click the CollectStorylineLogs.bat file and select Run as administrator. It'll only take a few seconds to gather your Storyline log files and create a zip file on your desktop.
Click here to upload the resulting StorylineLogFiles.zip to us.
We'll review your log files and follow-up with you when the investigation is complete.