Search interactions and quizzes in Presenter '09 presentations
Article Last Updated
The ability to search for text in Quizmaker quizzes and Engage interactions using the Search feature in a published Presenter '09 presentation (see image below) is not currently supported.  If you would like to see this feature in a future release, please submit a feature request to our product development team.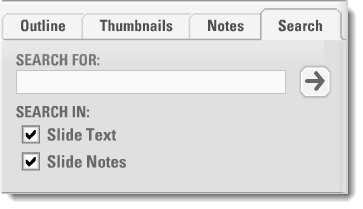 In the meantime, you can use the following method to make a quiz or interaction searchable in Presenter '09:
Open your quiz or interaction in Quizmaker or Engage.
Then publish the quiz or interaction as a Word document.
Open the resulting document in Microsoft Word.
Press CTRL+A to select all the text in the document.
Then Copy the selected text.
Open your presentation in PowerPoint.
Navigate to the applicable quiz or interaction slide.
Either Paste the text (as text only; no formatting is necessary) into the Notes pane at the bottom of the slide or into a new text box outside of the slide area.
Publish your presentation.
Here is a video screencast of this process: