Storyline 1: UI_AdminRequiredNotice Error After Upgrading Microsoft Windows
Article Last Updated
When you upgrade Microsoft Windows from one major version to another—such as Windows 7 to Windows 8—and launch Articulate Storyline, you may see this error message:
UI_AdminRequiredNotice

UI_AdminVistaNotice11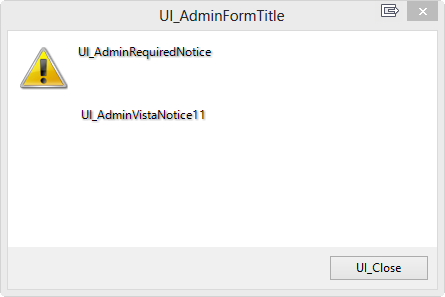 Here's how to correct it:
Close Storyline.
Go to the Start menu and locate your Storyline app.
Right-click Storyline and select Run as administrator.
User Account Control may ask, "Do you want to allow the following program to make changes to this computer?" Click Yes.
If the activation wizard appears, follow these instructions. Otherwise, Storyline is ready for use.
You only need to perform these steps one time to fix the issue after upgrading Windows.