Unable to Retry Quiz When Blank Slides in First Question Group Are Hidden in Quiz Review
Article Last Updated
You may find that you can't retry a quiz when the following conditions are true:
You have more than one question group in your quiz.
The first question group contains only blank slides (also called content slides).
The blank slides are not configured to Show in quiz review.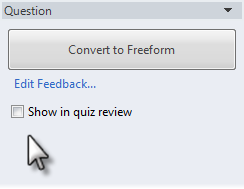 This issue was corrected in Update 3 for Articulate Quizmaker. To take advantage of the new features and fixes, download and install the latest version from the link in your product confirmation email or get it here, then republish your quiz.