Unable to zip a very large (>2 GB) presentation
Article Last Updated
If your presentation is more than 2 GB in size, you may encounter the following error when attempting to create an Articulate Presenter Package or when attempting to zip the published output:
There was an error creating the zip file.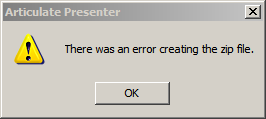 If you use another compression utility, such as Windows Compressed Folders or WinZip, you may encounter the following error:
File not found or no read permission.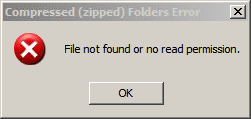 Technically, zip files have a size limit of about 4 GB.  However, in reality, many compression utilities have a file size limit around 2 GB.  If your presentation is between 2 GB and 4 GB, you may be able to compress it into a zip file using 7-zip, which is better at handling large files.