Upgrading to Articulate Storyline 2
Article Last Updated
Have questions about upgrading to Articulate Storyline 2? See answers to the most common questions below. If you need more help, just ask.
Do I Need to Uninstall Storyline 1 Before Installing Storyline 2?
No. Storyline 1 and Storyline 2 can be installed on the same computer. When you upgrade, Storyline 1 must remain with the Storyline 2 licensee. It can't be transferred to a different user.
What Happens to My Existing Storyline Projects When I Upgrade?
Your existing projects won't be changed unless you open them in Storyline 2. When you open an existing project in Storyline 2, you'll be asked to upgrade it.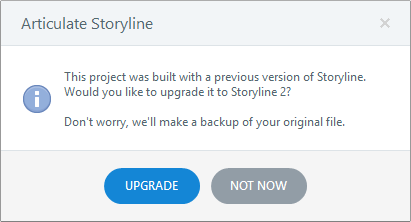 Since upgraded projects aren't backward compatible, Storyline will automatically create a backup copy of the original project file in the same folder in case you ever need to go back to Storyline 1.
Can I Open Storyline 2 Projects in Storyline 1?
No. Storyline 2 projects aren't backward compatible. They can't be opened or edited in Storyline 1.
What's New in Storyline 2?
See all the exciting, new features here. And check out CTO Arlyn Asch's favorite new features with video demonstrations of each.
OK, All This Sounds Great. Where Do I Download the Free Trial?
A fully functional, 30-day free trial can be downloaded here.
Great! How Do I Upgrade?
If you're a Platinum Membership Plan (PMP) customer and entitled to a free product upgrade, redeem your upgrade here.
If you're not a PMP customer, you can purchase a Storyline upgrade here.