Labels Change to White After Upgrading a Labeled Graphic Interaction
Article Last Updated
When you upgrade a Labeled Graphic interaction to Articulate Engage '13, you'll find that labels always have a white background by default. This is due to differences between theme colors in the previous and current versions of Engage. After upgrading, you can change the label colors. Here's how:
Go to the Labeled Graphic tab on the Engage ribbon, and click the Colors drop-down.
If you're using custom theme colors, right-click the theme colors, and choose Edit. To create new theme colors, click Create New Theme Colors at the bottom of the list.
When the color editor appears (shown below), use the Content color selectors to adjust your labels. The first color is used for the label background. The second color is used for the label text.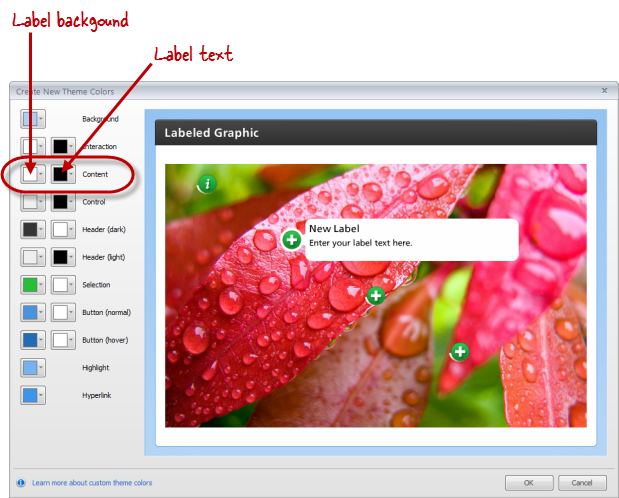 See this tutorial to learn more about working with theme colors in Engage.
Note: If your label text was white in the original interaction, it'll blend in with the default white background after upgrading, making it appear that the text is missing. To correct it, change either the label text color or label background color, so they're no longer the same. You can also change the text color using the font formatting options on the Engage ribbon (shown below). The font color overrides the theme color.