Presenter '13: Here's Why You Might Not See the Activation Prompt in PowerPoint 2013 and Later
Article Last Updated
Until you activate Articulate Presenter '13 with a serial number, an activation prompt will automatically appear each time you start a new PowerPoint presentation or open an existing one.
However, Microsoft added a start screen to PowerPoint 2013 and later. This lets you start new presentations from a number of professional templates. Since the Presenter activation prompt won't appear until you open a presentation, you won't see it when PowerPoint first opens if the start screen is enabled.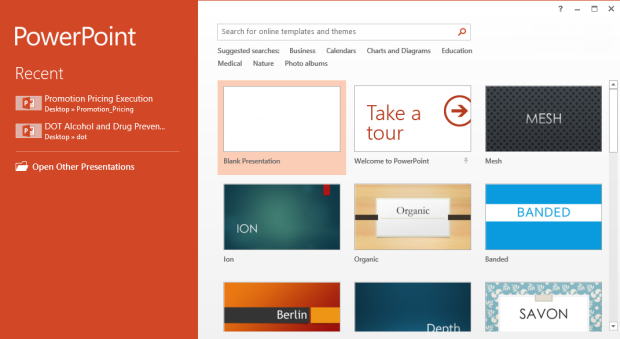 To see the Presenter activation prompt, click one of the template thumbnail images or choose an existing presentation from the sidebar.
If you'd prefer to turn off the start screen in PowerPoint, you can do that too. Here's how:
Open PowerPoint.
Click a template to start a new presentation or choose an existing presentation from the sidebar.
Go to the File tab and choose Options.
Click the General tab in the upper left corner if it isn't already selected.
Uncheck the box to Show the Start screen when this application starts.
Click OK and restart PowerPoint.